A recent compilation of several studies published by the National Institutes of Health brings good news for those of us who eat carotenoid-rich foods.
Circulating carotenoids and risk of breast cancer: pooled analysis of eight prospective studies.
Source: Channing Division of Network Medicine, Department of Medicine, Brigham & Women's Hospital and Harvard Medical School, 181 Longwood Ave, Boston, MA 02115, USA.
Abstract
BACKGROUND:

Carotenoids, micro-nutrients in fruits and vegetables, may reduce breast cancer risk. Most, but not all, past studies of circulating carotenoids and breast cancer have found an inverse association with at least one carotenoid, although the specific carotenoid has varied across studies.
METHODS:
We conducted a pooled analysis of eight cohort studies comprising more than 80% of the world's published prospective data on plasma or serum carotenoids and breast cancer, including 3055 case subjects and 3956 matched control subjects.
To account for laboratory differences and examine population differences across studies, we re-calibrated participant carotenoid levels to a common standard by re-assaying 20 plasma or serum samples from each cohort together at the same laboratory. Using conditional logistic regression, adjusting for several breast cancer risk factors, we calculated relative risks (RRs) and 95% confidence intervals (CIs) using quintiles defined among the control subjects from all studies.
RESULTS:
Statistically significant inverse associations with breast cancer were observed for α-carotene (top vs bottom quintile RR = 0.87, 95% CI = 0.71 to 1.05), β-carotene (RR = 0.83, 95% CI = 0.70 to 0.98), lutein+zeaxanthin (RR = 0.84, 95% CI = 0.70 to 1.01), lycopene (RR = 0.78, 95% CI = 0.62 to 0.99), and total carotenoids (RR = 0.81, 95% CI = 0.68 to 0.96).
For several carotenoids, associations appeared stronger for estrogen receptor negative (ER(-)) than for ER(+) tumors.
CONCLUSIONS:
This comprehensive prospective analysis suggests women with higher circulating levels of α-carotene, β-carotene, lutein+zeaxanthin, lycopene, and total carotenoids may be at reduced risk of breast cancer.
___________________
And another study:
Effects of antioxidant supplementation on the aging process
Domenico Fusco,1 Giuseppe Colloca,1 Maria Rita Lo Monaco,1 and Matteo Cesari1,2
In Western Countries, atherosclerotic disease is the major cause of death in the elderly population. Several antioxidants, such as polyphenols and lycopene, have been proposed to delay the progression of this disease. At the beginning of the Nineties, Renaud and de Lorgeril created the so-called "French Paradox", describing how, despite the high intake of saturated fat, the French population presents a low incidence of coronary heart disease events (Renaud and de Lorgeril 1992).
Even if their study raised a huge controversy, it has been suggested that beneficial effects from red wine consumption might be related to its high content of antioxidants (Heller et al 1998). Resveratrol, a phytoalexin found in several plants (in particular, red grapes), has shown to be able to up-regulate the nuclear Liver X receptor α and its target genes in macrophages, and to reduce the expression of lipoprotein lipase and scavenger receptor AII.
Alzheimer's disease is a progressive disorder with cognitive and memory decline, speech loss, personality changes and synapse loss. The heterogeneity of the etiologic factors of Alzheimer's disease makes it difficult to define the major clinical determinants for the onset and progression of the disease. However, increasing evidence has recently indicated oxidative damage as a potential cause of Alzheimer's disease pathogenesis (Nunomura et al 2006; Onyango and Khan 2006).
Cancer: While the exact role of free radicals in carcinogenesis and cancer progression is still under investigation, increasing evidence has demonstrated that some antioxidants are associated with a lower incidence of specific types of cancers. Vitamin E, for example, has been shown in some trials to reduce the incidence of breast, lung, and colon cancers, but the most significant results have been obtained with prostate cancer.
~~~~~~~~~~~~~~~~~~~~~~~~~
I suggest to each person I counsel on Disease Prevention to consider taking a high quality, pure supplement that contains the full spectrum of Antioxidants to help ensure they are doing all they can to reduce their risk for cancer, diabetes and heart disease. Maintaining high antioxidant levels is the single most critical goal for good health.
  "The amount of antioxidants that you maintain in your body is directly proportional to how long you will live." - 

Richard Cutler M.D., Director Anti-Aging Research, National Institute of Health (NIH)
Of the many supplements I have taken and that have been suggested to me by a leading nutritional oncologist, a handful of brands stand above the rest.  However, for a comprehensive pharmaceutical-grade Supplement which includes a full spectrum of Antioxidants, Vitamins and Minerals in doses that have been scientifically formulated to work together synergistically, no brand competes with Pharmanex' Lifepak.  The company guarantees that your antioxidant levels will rise after 6 – 8 weeks of taking the supplement, or your money back.  I know of no other supplement that makes that promise.
More importantly, Instead of testing for the 50 or so required contaminants that the FDA outlines, Pharmanex tests for over 200 of them!  That's a company I am confident has my good health in focus.
If you are serious about impacting your health in a tangible way, and understand that none of us can get the recommended levels of nutrients and antioxidants from our diet alone (many reasons for that, including depleted nutrients in our soil), then you should consider taking LifePak.
Drop me a message and I will create an account for you with Pharmanex, so you have access to what I pay… which is the lowest possible price (20 – 25%) below the published web price.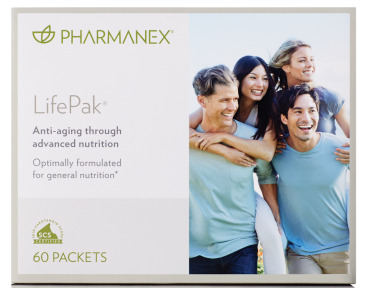 To Your Good Health! ♥